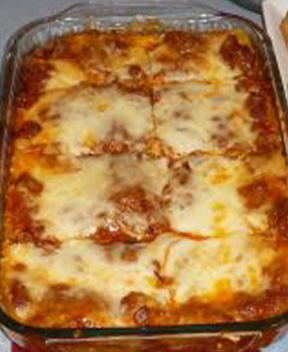 Fontina Lasagna

(based on "Six Ingredients or Less -- Pasta and Casseroles" Carleen Johnson)

12 lasagna noodles

2 lb mix of ground beef and ground mild Italian sausage

3 Jars of chunky Ragu 

6 TBS (or more!) freshly grated Parmesan cheese

6 cups (1.2 lb) Fontina cheese

Cook noodles as directed on package; drain and rinse with cold water.  Meanwhile, brown ground beef and sausage; drain off fat.  Add spaghetti sauce and simmer while noodles are cooking.

Spread about 1/2 cup of the spaghetti sauce in a 13"x 9" baking dish sprayed with nonstick cooking spray.  Place 4 of the lasagna noodles (overlapping slightly) in baking dish.  Spread with about 2 cups meat sauce.  Sprinkle with 2 TBS of the Parmesan cheese, then with 1/3 of the Fontina cheese.  Repeat, making three layers and ending with the Fontina cheese.

Bake at 350 degrees for 30 minutes or until cheese is golden.  Let stand 5 to 10 minutes before cutting. Makes about 8 servings.

Note:  Fontina cheese is expensive, but has a suburb melting quality not found in other cheese, such as Mozzarella