Garlic "Bread"

(Recipe from Marte Mendoza)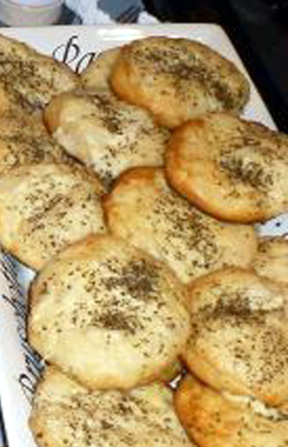 1 tube Pillsbury biscuits

2/3 cup Parmesan Cheese

½ cup Mayo or Mayo/soft butter blend (I used 50-50 Mayo and butter)

Organo and garlic salt to taste

Set biscuits on the counter for 10 minutes before opening the tube

Preheat oven to 400 degrees

Mix Parmesan and Mayo/butter combo together until well blended

Spray cookie sheet with Pam (cooking spray)

Arrange biscuits on the cookie sheet so they don't touch. 

Then flatten each biscuit with your hand until flat … like a pancake

Spread Parmesan/Mayo mixture over the flattened biscuits as evenly as possible.

Sprinkle each biscuit with garlic salt and oregano

Bake in 400 degree oven for 10 minutes.